award-recipient-2018-jamie-o-sullivan
Jamie Marie O'Sullivan, PhD
Unravelling the enigma of von Willebrand Factor (VWF) clearance; Characterization of a novel VWF clearance receptor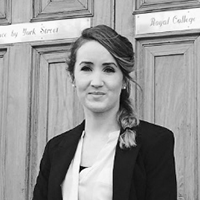 Several studies have reported significantly reduced von Willebrand Factor (VWF) sialylation in patients with type 1 von Willebrand Disease (VWD). However the mechanism of how hyposialyation contributes to VWD pathophysiology remains unknown. We have recently shown that desialyation of VWF results in rapid clearance in VWF-/- mice. Furthermore, we identified a novel role for macrophage galactose lectin (MGL) in mediating the rapid clearance of desialyled VWF. MGL is a C-type lectin with affinity for the exposed galactose of hyposialylated glycans. Importantly plasma VWF levels are significantly elevated in MGL1-/- mice which can be attributed to reduced clearance of murine VWF compared to WT controls.
Collectively, these studies highlight the importance of this novel lectin receptor in regulating VWF plasma levels. Consequently the objective of this study is to characterise the interaction between VWF and MGL and to identify whether MGL receptor may contribute to the pathology underpinning VWD. This study will provide unique insights into the mechanisms regulating VWF clearance both physiologically and pathologically and elucidate the role of MGL as a novel mediator in these processes. Importantly, this research will be of direct translational relevance and may also have implications for the development of long-acting VWF molecule.
Curriculum Vitae
Dr. Jamie O'Sullivan is a lecturer in the Irish Centre for Vascular Biology at the Royal College of Surgeons in Ireland whose research focuses on von Willebrand Factor (VWF) biochemistry and glycosylation, the role of lectin receptors in VWF biology and non-haemostatic roles for VWF. She graduated first in class with a BSc. Biomedical Science from University College Cork in 2011. She was selected for an Irish Research Council PhD scholarship award and she subsequently completed her PhD with the Haemostasis Research group in Trinity College Dublin, led by Professor James O'Donnell. The focus of her doctoral research included defining the role of coagulation protein glycosylation in regulating lectin interactions and modulating in vivo clearance.
Dr. O'Sullivan's postdoctoral research was funded through a Science Foundation Ireland Biotherapeutics Innovation award and focused on novel drug discovery specifically for the treatment of Haemophilia A patients and Von Willebrand disease. Her work has received prestigious awards from the Haematology Association of Ireland in both 2012, 2013 and 2014 and been presented both nationally and internationally at the American Society of Hematology 2013 and 2014, International Society for Thrombosis and Haemostasis 2015 and the Gordon Conference for Hemostasis 2016.
Dr. O'Sullivan was appointed as senior postdoctoral fellow the Royal College of Surgeons in Ireland in 2016, during which period she was secured Novartis Fellowship Award. She has been recently appointed as lecturer with the Royal College of Surgeons in Ireland and is the first European researcher to be invited to co-Chair the Gordon Research Seminar Meeting for trainees in Hemostasis, in Boston 2018.
Contact
Irish Centre for Vascular Biology,
Depart. Molecular and Cellular Therapeutics,
Royal College of Surgeons in Ireland,
123 St Stephens Green,
Dublin 2