award-recipient-2019-simone-merlin
Simone Merlin, PhD
Elucidating mechanisms of hemophilia A pediatric patients' pDCs in immune response to FVIII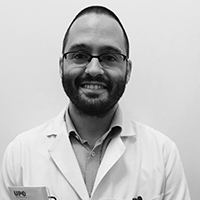 The current therapeutic option for hemophilia A (HA) patients is represented by replacement therapy with FVIII infusions. However, this treatment results in the risk of inhibitors formation during the first 20 exposure days to FVIII in roughly 30% of previously untreated HA children. In our recent studies, targeting FVIII expression in myeloid cells after in vivo gene therapy by lentiviral vector (LV) infusion in a mouse model of HA resulted in inhibitors formation in 30% of treated mice. By avoiding FVIII expression in miRNA-126-expressing cells, thus including plasmacytoid dendritic cells (pDCs), prevented inhibitors formation and resulted in sustained and prolonged FVIII activity in HA mice up to 1 year after LV delivery. Thus, our results suggest an implication of pDCs in the immune response to FVIII and in inhibitors development.
Hence, the main aim of this project is to characterize the pediatric patients' pDCs response to FVIII after the initial FVIII treatment, thus determining their role in immune response to FVIII and possibly understanding the molecular mechanisms underlying the inhibitors formation, in order to obtain useful information to pave the way for the development of new FVIII administration regimens avoiding inhibitors formation.
Curriculum Vitae
Dr. Simone Merlin is currently a research assistant professor at the Department of Health Sciences, School of Medicine, University of Piemonte Orientale, Novara (Italy). After a BSc degree in Biotechnology in 2004 and a MSc in Pharmaceutical and Medical Biotechnologies in 2006, he received his PhD in Biotechnologies for Human Health in 2010 with the thesis "Cell therapy approaches to cure Hemophilia A", studying the contribution of hematopoietic cells in FVIII production in vivo.
Since 2007 he is working on cell and gene therapy strategies for the treatment of hemophilia A. His research is focused on the identification of the cell types involved in FVIII production and the clarification of the main cell types and the molecular mechanisms involved in FVIII immune responses.
He has been involved as collaborator in several national and international projects on hemophilia in the group of Prof. Antonia Follenzi. He presented his works in several national and international congresses and he has been awarded (Young Investigator Award) by International Society on Thrombosis and Haemostasis in 2013, 2015 and 2017.
Finally, he is involved in teaching activities in the BSc in Biotechnologies and in tutoring internships of students of BSc in Biotechnologies and Biomedical Laboratory Techniques and students of MSc in Medical Biotechnologies at the University of Piemonte Orientale.
Contact
Department of Health Sciences
University of Piemonte Orientale
Via Solaroli 17
28100, Novara (Italy)
Tel: +39 0321660595
Email: simone.merlin@med.uniupo.it