award-recipient-2020-lindsey-george
Lindsey George, MD
Use of an Enhanced Hemostatic Function Factor VIII Variant for Hemophilia A Gene Therapy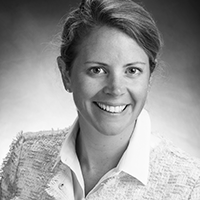 Hemophilia A is due to an inherited deficiency or dysfunction of coagulation (F)actor VIII characterized by life threatening and recurrent hemarthrosis resulting in disabling hemophilic arthropathy. Some limitations of current hemophilia care have driven significant innovation including considerable novel therapeutic efforts, including adeno-associated virus (AAV)-mediated FVIII gene transfer.
Factor VIII is a critical cofactor necessary for clot propagation within the intrinsic tenase enzyme complex. Activated coagulation FVIII (FVIIIa) is inactivated by rapid dissociation of the non-covalently bound A2 domain and proteolytic cleavage by a natural anticoagulant, activated protein C (APC). This work aims to understand the biochemical mechanisms that regulate FVIIIa function with the goal of exploiting this understanding for therapeutic benefit. The hypothesis is that inhibiting APC-mediated cleavage of FVIIIa may improve the hemostatic function of FVIIIa in the setting of gene therapy (Aim 1). Additionally, the study aims to investigate the potential safety implications of using a gain of function FVIII variant, including prothrombotic and immunological risk (Aim 2).
Curriculum Vitae
Dr. Lindsey George is currently a Tenure Assistant Professor of Pediatrics at the Perelman School of Medicine at the University of Pennsylvania where her laboratory studies the molecular basis of coagulation. She received her undergraduate degree in Biology from Cornell University and medical degree from the State University of New York, Buffalo School of Medicine. She then completed a Pediatric residency and chief residency at Weill Cornell Medical College and Pediatric Hematology/Oncology training at the Children's Hospital of Philadelphia. Her laboratory training was mentored by Dr. Rodney Camire, an international leader in coagulation biochemistry. She additionally leads early phase clinical trials in AAV mediated gene transfer for hemophilia A and B in work that was mentored by Dr. Katherine High, who pioneered efforts in hemophilia gene therapy.
Contact
Lindsey George, MD
The Children's Hospital of Philadelphia
3501 Civic Center Blvd, CTRB, Room 5016, Philadelphia, PA 19104 USA
Email: georgel@email.chop.edu