award-recipient-2020-roberta-gualtierotti
Roberta Gualtierotti, MD, PhD
Joint damage in patients affected by Von Willebrand Disease - The Jewel Study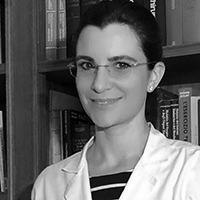 Joint bleeding (hemarthrosis) in von Willebrand disease (VWD) mostly affects severe patients with low levels of factor VIII (FVIII). Recurrent hemarthrosis leads to a chronic arthropathy, an important and clinically relevant comorbidity, that must be considered when planning long-term therapy or prophylaxis.
The Hemophilia Early Arthropathy Detection with Ultrasound (HEAD-US) is a simplified ultrasound scanning procedure developed to systematically evaluate the synovitis and osteochondral damage in hemophilia already proven to be effective in the early detection and scoring of hemophilic arthropathy.
We hypothesize that patients affected by VWD can present joint bleeding and subsequent arthropathy that could be detected, evaluated and scored with the HEAD-US procedure. We expect that patients affected by VWD, independent of the classification of the disease with lower levels of FVIII have a higher risk of joint bleeding and therefore joint damage.
The specific objectives of our study are to determine the joint health status of patients affected by VWD using clinical examination (HJHS) and ultrasound (HEAD-US); to evaluate which levels of FVIII (that are a consequence of VWF:RCo levels) are a risk factor for joint damage in patients with VWD; and to compare quality of life scores in patients affected by VWD, with and without joint damage and to correlate them with FVIII and VWF:RCo levels.
With this study we expect to gain a better understanding of joint health in patients affected by VWD. Furthermore, we will shed light on how FVIII levels can affect joint damage severity in these patients.
Curriculum Vitae
Roberta Gualtierotti is Assistant Professor of Internal Medicine at the University of Milan. She is a member of the staff at the Angelo Bianchi Bonomi Hemophilia and Thrombosis Center, directed by Prof. Flora Peyvandi at the Fondazione IRCCS Ca' Granda, Ospedale Maggiore Policlinico in Milan, Italy. She obtained a specialization in Rheumatology and a PhD in Experimental Pathology and Neuropathology at the University of Milan. She has experience in clinical and translational research with a particular focus on the pathophysiological mechanisms of synovial membrane involvement in the course of autoimmune inflammatory diseases and bleeding disorders and an interest in the crosstalk pathways between inflammation and haemostasis. She has expertise in the implementation of precision medicine and collaborates with the International Consortium of Personalized Medicine (ICPerMed) and the Italian Ministry of Health. She is author and co-author of more than 50 papers.
Contact
Roberta Gualtierotti, MD, PhD
Angelo Bianchi Bonomi Hemophilia and Thrombosis Center, Fondazione IRCCS Ca' Granda,
Ospedale Maggiore Policlinico
Via Pace, 9, 20122 Milano MI, Italy