award-recipient-2021-Ilja-Oomen
Ilja Oomen, MD
Explaining the prevalence and characteristics of non-neutralizing antibodies in patients with hemophilia A or B The X-Plain study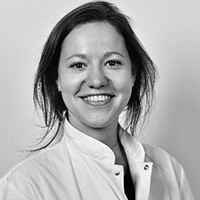 Recently, non-neutralizing antibodies (NNAs) have been identified that bind non-functional sites on the FVIII-molecule. NNAs precede inhibitor development and increase the clearance of administrated clotting factor concentrate from the circulation, thereby reducing the clotting factor half-life and limiting hemostatic efficacy of administered concentrates.
While the development of antibodies against therapeutic clotting factor concentrations remains the most severe complication of this treatment, we still lack profound insight in the (immunological) pathophysiology. It is still unknown what proportion of detected NNAs have neutralizing properties.
We hypothesize that FVIII/FIX-binding antibodies form a spectrum from low titer, low affinity NNAs and high affinity antibodies with or without inhibitory potential, to inhibitory antibodies detectable with the widely used Bethesda assay. We hypothesize that a subset of NNAs are in fact low-titer inhibitory antibodies with titers below the detection limit of the Bethesda assay.
This study aims to assess the prevalence of FVIII and FIX-specific NNAs and their characteristics (Ig class, IgG subclass and affinity, neutralizing properties) among non-inhibitor patients with severe, moderate and mild hemophilia A and B in the Netherlands.
Curriculum Vitae
Ilja Oomen is a PhD-candidate at the department of Pediatric Hematology at the Emma Children's Hospital at the Amsterdam University Medical Center at the University of Amsterdam, the Netherlands under supervision of Prof. Karin Fijnvandraat, MD, PhD and Samantha Gouw, MD, PhD.
She received her medical degree from the University of Amsterdam in 2019. She started her research career on pharmacokinetic and pharmacodynamics effect of anti-rituximab antibodies in children with immune-mediated diseases at the department of pediatric rheumatology.
Her current research focusses on anti-FVIII and FIX antibodies and immune tolerance induction (ITI) therapy in patients with hemophilia A. She coordinates an international ITI Steering Group with investigators from Europe, Brazil and Canada. She aims to develop a prediction model based on predictors for the outcome of immune tolerance induction, to tailor therapies according to each patient's individual chance of success. Additionally, she investigates the immunological mechanism underlying immune tolerance induction, with a cross-interaction of toll-like receptors and Fc gamma receptors with FVIII-immune complexes. Her laboratory training is mentored by Jan Voorberg, professor in molecular and cellular hemostasis at the Sanquin Research and Landsteiner Laboratory in Amsterdam.
Contact
Ilja Oomen, MD
Emma Children's Hospital, Amsterdam University Medical Center Amsterdam, the Netherlands
Meibergdreef 9, 1105 AZ Amsterdam, Room H8-253
Sanquin Landsteiner and Research Laboratory, Amsterdam, the Netherlands
Plesmanlaan 125, 1066 CX Amsterdam, Room Y328